Conoship is an ambitious and innovative ship design and engineering office, dedicated to support clients during all phases of the shipbuilding process. The company is active globally and over 2000 vessels have been built from their designs. Conoship has been a SARC customer since 1988.
Since the end of the last century, Conoship has been using PIAS to calculate intact and damage stability as well as designing various vessels. From the very beginning, there has been close contact between the two companies so that we can hear first-hand how PIAS is being used. For example, Conoship recently participated in the Dutch Collaborative Platform for Design and Engineering of Ships (CPDES) research project in which SARC also participates. During the project, a two-way 3D data exchange between PIAS and CADMATIC Hull was created.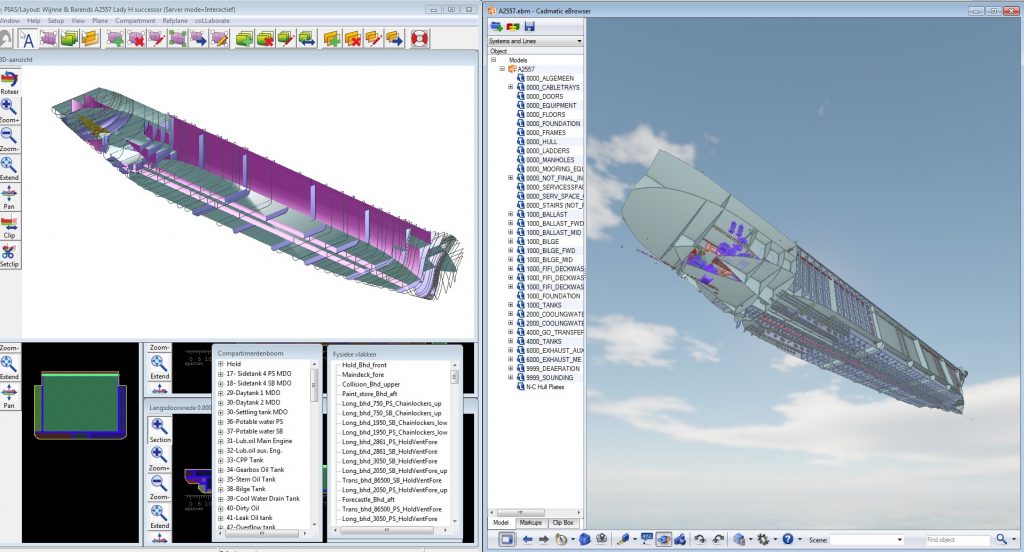 First-hand experience is worth gold to us as a company, also from Jan van der Zee, a Naval Architect at Conoship. He is mostly involved in the company's concept and basic design phases and engineering. For example, he deals with hull form and stability in many design projects. In addition to being an active user, he is also the application manager of PIAS. He says: "Over the past decades, we have built up an archive of PIAS files that we can often fall back on when, for example, a vessel is being lengthened".
When asked whether he could describe PIAS, Jan responds "I find the input and output of PIAS clear, it is a flexible program. I can quickly make a model during the design phase, so that it is quickly clear how the model is performing and whether it can be improved. It also saves a lot of time that Class is more often asking for a PIAS model instead of an input or ship data booklet".
Conoship has been involved in our development for some time, for example, they were the first to use the physical planes in Layout to define subcompartments. They also make extensive use of the Paste Link function within Layout. It may be practical to define the shape of the subcompartment not twice, but only once by making this link. Over the years, they have gained a great deal of experience, which has enabled them to develop a unique working method within PIAS.
About Probdam Jan says: "We have an advantage by using the compartment method. Using this method, the highest index is quickly found for the user". This method has been offered within PIAS since 1990 and is recognized by the majority of classification societies. In addition, SARC is working on the further development of the numerical integration method so that its advantages are also recognized. This method gives more stable results than conventional approaches, while a number of practical pitfalls are avoided
Conoship uses PIAS for all its designs for which stability has to be calculated, also for assignments abroad. On this subject, Jan says: "PIAS offers all the marine engineering calculations we need for the types of ships we have to calculate. The new licensing system also provides many opportunities to rent modules temporarily".
Finally, Jan would like to say: "I like the fact that I can speak directly to a developer. This way you stay well informed. This direct contact is not available at every company. As a result, problems are solved quickly".
All in all, Conoship has been a good customer of ours for years and we are very grateful for all the suggestions and feedback we have received over the years.