A Ballast Water Management Plan must be approved and on board by 8 September 2017. With the deadline approaching, SARC has information and resources to help you. Ships of 400 gt and above are required to have on board and implement a Ballast Water Management Plan approved by Class. The Ballast Water Management Plan is specific to each ship and includes a detailed description of the actions to be taken to implement the Ballast Water Management requirements and supplemental Ballast Water Management practices.
The Ballast Water Management Plan is required to:
Assist the ship in complying with international regulations to minimise the risk of the transfer of harmful aquatic organisms and pathogens in ships' ballast water and associated sediments.
Identify the ship's Ballast Water Management Officer.
Consider ship safety elements, provide information to PSC officers on the ship's ballast handling system and confirm that ballast water management can be effectively planned.
Include training on BWM operational practices.
Be written in the working language of the ship. If this language is not English, French or Spanish a translation into one of these languages must be included.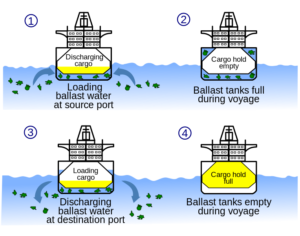 Keep up to date with the latest news, follow us on Facebook and LinkedIn.
Update 26-07-2017
The MEPC, at its 71st meeting, reached a compromise on compliance dates for ballast water discharge. Ships constructed after 8th September 2017 must comply on delivery, while existing ships in general must comply by the first IOPP renewal after 8th September 2019.
Under the proposal, ships constructed on or after September 8, 2017 are to comply with the D-2 standard on or after that date.
Vessels built before September 8, 2017, are to comply with the D-2 standard at the first MARPOL IOPP renewal survey completed on or after:
 September 8, 2019 (Reg B-3/10.1.1); or
 September 8, 2017, only if a MARPOL IOPP renewal survey is completed on or after September 8, 2014, but prior to September 8, 2017 (Reg B-3/10.1.2).