Polycurves can be translated with the action started from [Polycurves]→[Move Polycurve] or with the keys <Alt><P><M>, as well as from the context menu after clicking the right mouse button on a polycurve in the tree view.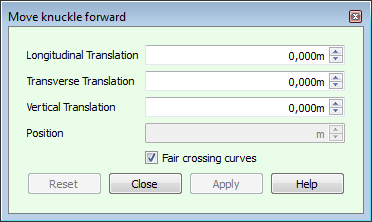 The translation is either keyed in relatively in the first three fields on the panel, or, if just a single planar polycurve is selected, to an absolute position in the fourth field.
Polycurves can be selected in the usual ways, either before or after starting the action. If you need to deselect a single polycurve by holding the <Ctrl> key, be sure to click the original polycurve, not its shifted image. It is possible to move an entire object by selecting all polycurves in it, but [Move Objects] will work quicker.
If the option [Fair crossing curves] is checked, crossing curves will be adapted to the translation. However, if a system of mutually intersecting polycurves is being moved then you may want to leave this option off.
The names of polycurves remain unchanged, you may want to update them to reflect their new position using [Systemize polycurve names].